Do I have to come to NYC for the examination, fitting and color selection?
We have over 20 years of experience, providing this specialty custom color contact lens (prosthetic contacts, cosmetic contacts & special effects contacts.) We strongly recommend that you take advantage of our expertise and arrange a convenient time for a consultation and examination to be fit exactly to your individual specifications in NYC (63 W. 49th St. 1-800-598-2020).
Warranty / Insurance
Custom Color Contacts are custom designed and made according to individual specifications.
There are no refunds for custom lenses. But we will attempt to do everything possible to work with you if the color is grossly different to make sure you are satisfied with our product. At Custom Color Contacts, we do not accept any insurance for Prosthetic Contact Lenses or the consultation fees. However we are happy to provide you any necessary coding information to process your own insurance submission.
Can you tint or color a lens sent to Custom Color Contacts?
Our custom color bonded opaque lens designs (changing the color dramatically from darker eyes to lighter eyes) are only supplied by Custom Color Contacts. We cannot accept a lens from you to opaque. We offer a lens tinting service to enhance light eyes or darken eye coloring.
What powers are available?
We can provide any prescription + or – on a custom lens, however we cannot manufacture any astigmatic prescription in the lens.
How long will prosthetic contacts or cosmetic lenses last?
When properly cared for with the suggested solutions, the lenses last approximately 1-2 years. We strongly recommend that each patient have a back-up or replacement lens on hand, in the case of an emergency.
How long does it take to manufacture the lens?
Each lens is custom made to a patient's exact measurements. Depending on the lens design and other individual circumstances, lenses take approximately 10 weeks to manufacture.
How long can I wear the lenses?
Custom Color Contacts are daily wear contact lenses and can be comfortably worn for normal waking hours. These lenses are not to be worn as extended wear or overnight wear.
How do I know what color is best for me when choosing a cosmetic lens?
Our experienced staff will choose lenses with the perfect iris coloring to complement your hair and skin tones. Our large color lens inventory can also be used to help identify the best possible coloring during your consultation and fitting. In addition there are many different lens details that we can offer including iris flecks and limbal rings, to make the eye look larger or more pronounced.
Are these lenses safe and FDA approved?
We are the only FDA approved company in the U.S. that provides color bonded, hand painted lens designs. Our lenses conform to all regulations and we use FDA approved dyes to insure safe prosthetic, cosmetic and special effect lenses.
Lens Specifications
Our unique lens process is only available in the USA from Custom Color Contacts, using our own soft daily wear material. The lens process incorporates pigment bonded between two layers to provide the depth and detail of a real eye. The pigments are absorbed into the lens matrix and sealed within the material to ensure no color fading and a longer lasting lens.
Color Matching
Any color can be created using our color-bonded lens process, from the most challenging light blue, gray and green iris colors to very dark brown. Subtle variation of coloring within the base iris color called iris flecks and coronas, or thin and thick limbal rings (outer black border) can also be included to highlight unique coloring that is specific to the patient's eye (for prosthetic use) or requested color (for cosmetic use).
Matching an eye color for prosthetic use is always a challenge, as the eye is translucent and can change based on lighting conditions and reflections from clothing. Although you can never exactly match an iris color due to these variables, Custom Color Contacts can match eye coloring very closely, making us the leading choice for prosthetic and cosmetic requests.
We use several techniques to help artists depict the most accurate color matching for your specific lens requests. Our extensive inventory of soft color trial prosthetic lenses, help identify the best color choice to complement your skin and hair tones. Digital photography is commonly used to achieve high-resolution coloring and then color corrected to ensure the most natural-looking tones.
Lens Designs
Custom lenses are all hand-painted to ensure precise detailing of individual eye specifications. Variables that must be carefully measured include: iris diameters, pupil size, clear or black openings, base curves for maximum movement, prescription (+ and – spherical only, no astigmatism) and color.
Transparent color tinting is also available to enhance lighter eye coloring with various tones including yellow, orange, and purple.
Misaligned eyes that might require surgery, can be superficially realigned using our new truncated opaque lens designs. The iris is designed off-center to create a straight appearance.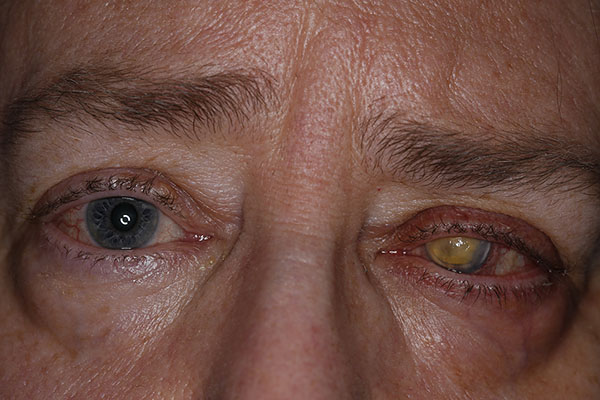 Prosthetic Client Before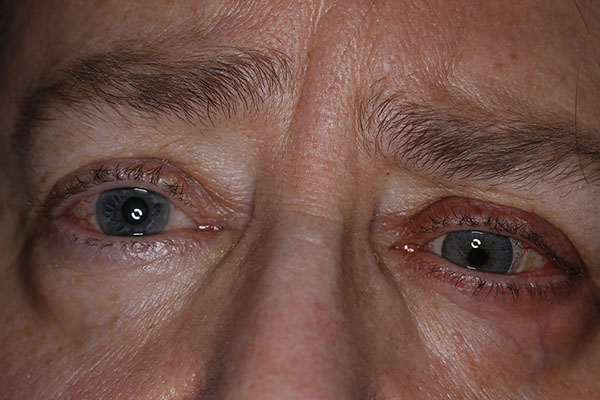 Prosthetic Client After